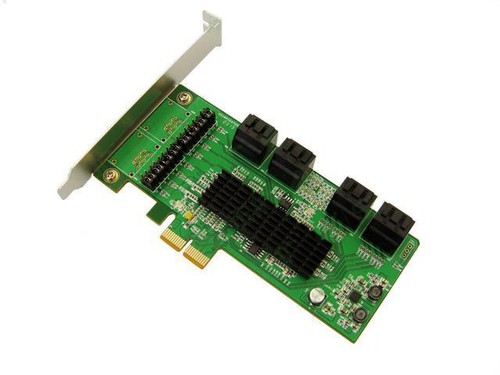 PCI Express 2.0 x2
SATA 600MB/s
8 SATA III channels
RAID 0, 1, 5, 0+1, JBOD
48-bit LBA
ATAPI CD/DVD/BD support
Plug & Play

Marvell 88SE9705 chipset

Ports: 8 SATA 6Gb/s Ports

Compliant with PCI-e Specification v2.0 and Backward Compatible with PCI-e 1.x

Supports Native Command Queuing (NCQ)

Compatible with SATA 6G, 3G and 1.5G Hard Drives

Supports Port Multiplier FIS Based Switching or Command Based Switching
This card is designed for PCI Express 2.0 and requires a 2 lane slot. If it's installed in an older PCI Express 1.1 slot the maximum bandwidth will be reduced.
This card  uses 4 ports on each of 2 PCI Express lanes which is typical for disk controllers.
Make sure your system BIOS is configured for AHCI. Failure to do so may cause the system to fail to boot. Its also advisable to update your motherboard BIOS as this card is more demanding than older PCI cards.
This card has enough bandwidth to handle SSD drives easily. With 8 SSD drives connected the PCI Express 2.0 x2 bandwidth is bottlenecked. This card is intended for hard disks and optical drives.
This card does not have RAID 5 logic but Windows 7 and above can use the card easily. Windows 10 Storage Spaces can make a large storage unit easily. Larger capacity hard disks can be used to create a comparatively large storage pool for CDN uses and media libraries.