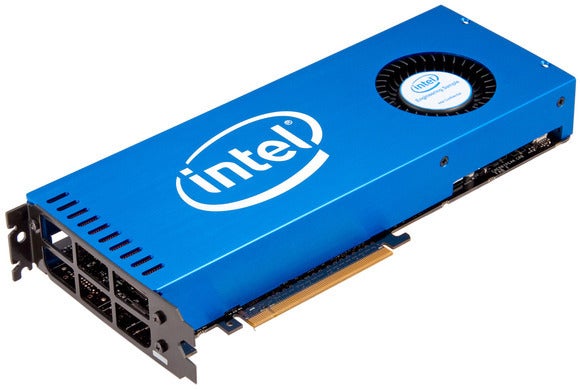 Almost all data centers have standardized on 42U racks. The EIA (Electronic Industries Alliance) standard server rack is a 19 inch wide rack enclosure with rack mount rails which are 17 3/4″ (450.85 mm) apart and whose height is measured in 1.75″ (44.45 mm) unit increments. A 42U rack would have an internal rack unit height dimension of 73.5 inches (1.8669 m).
Top of the tack network boxes with 10GBASE-T are now offering 48 ports so even servers wanting 4 cables are not a problem. Usually racks are interconnected with fiber at 40 gigabit or faster speeds.
SERVERS
Traditional 1U servers with quad socket motherboards are popular for demanding workloads. DDR4 models can now have 2TB of RAM installed.
GPU based blade servers are gaining in popularity. With the new more general purpose architecture seen with video cards many centers are taking advantage of the extreme rendering capability for visualization etc. Intel has PCI Express cards which can be used in any machine so that developers can work with them.
Depending on the business the server requirements will vary somewhat. Backblaze buys servers frequently to keep up with the growing demand for backups The 4U rack mounted hard disk servers with 60 disks each can now reach 6PB per EIA rack. EB storage capacity is now realistic for deeper pockets.
2½" FORM FACTOR
2016 brings new 2U NVMe servers with 24 bays. Other models have 48 NVMe bays in 2 rows. Machines like this need 40 gigabit networking on the rack to be able to leverage the advantages of vast numbers of SSD drives.
Intel has been selling lots of SSD in the 400GB and 600GB capacities with NVMe interfaces. Intel's server use the faster SFF-8649. U.2 is the new marketing designation for SFF-8649.
Raid growth in SSD capacities will reduce the need for rows of racks. Samsung has been shipping their 15TB SSD drives to NVMe server customers in volume for several months. Seagate 60TB SSD drives are using 3½" form factor which fit the 60 disk storage servers,
3½" FORM FACTOR
Older 4U hard disk servers are stack disks 4 rows deep. Deeper models with 6 rows are an option for larger storage operations. Due to the weight, these should be at the bottom of the rack unless the while stack is storage. With the latest 10TB disks, hard disks are taking over from tape as the archival storage choice.
BLADE SERVERS
Blade boxes have been around for a long time but virtual machines have reduced the need for this type of solution. A server with 2TB of RAM cope cope with a lot of instances of Linux or Windows Server.. New generation blades can improve on server density as needed but they are much more limited to RAM capacity..IBM moved many old machines to blades so that applications could be continued before selling the operation to Lenovo.
BACKBLAZE
For many years Backblaze was using nonstandard custom racks but their latest chassis now fit EIA racks. Generally this business is a cloud storage operations.
Backblaze has used consumer grade hard disks. These disks have been subjected to workloads never envisioned by vendors. Over time it's likely that consumer hard disks will see some improvements in reliability.